Product Overview
ModeloDrive Carbon Fiber GTE V5 Front End Combo Kit > Lotus Evora 2011-2021 (modelodrive_119971)
This is a GTE V5 Front End Combo Kit manufactured or distributed by ModeloDrive and primarily made of Carbon Fiber material. Most carbon fiber parts we sell are "wet" carbon fiber, this means they have that "wet" glossy look, the only exception to this is then the product specifically states "dry". Dry carbon is usually lighter than wet carbon but has a dull flat finish. When installing ModeloDrive Carbon Fiber parts make sure you are using hood pins on hoods and do not use hydraulic arms to prop open hoods and trunks as they can warp the light weight components over time. ModeloDrive Carbon fiber parts may require modifications such as: Drilling of holes / cutting / sanding / fixing cracks / buffing to eliminate scratches, etc. Ships direct from the manufacturer or a distributor. Manufactured with a marine gelcoat variant to help prolong the life against UV aging effects. Our Carbon Fiber parts are made with handlaid wetcarbon with plastic resin. Genuine show quality carbon reinforced with FRP fiberglass backing. Aeroparts are to be installed by a professional body shop. Bolts, screws, and double sided tape is not included. Carbon Fiber parts often have a fiberglass underside which may require modification, shaving, sanding, drilling, filling in order to ensure proper fitment.
Kit Includes:
ModeloDrive Carbon Fiber V5 Hood (front) > Lotus Evora 2011-2021 (modelodrive_119970)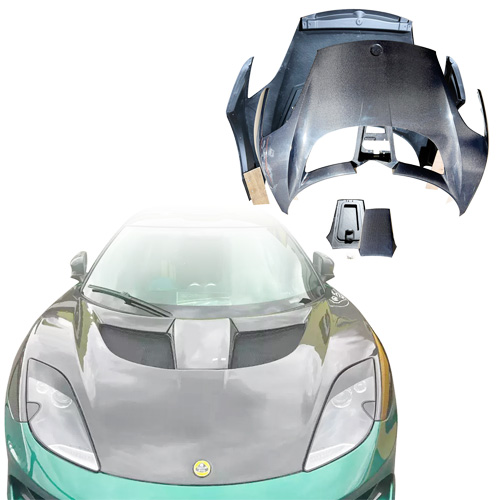 ---
New: A brand-new, unused, unopened, item in its original packaging (where packaging is applicable). Packaging should be the same as what is found in our retail store. To be installed professionally by a bodyshop with a valid automotive repair business license. Fiberglass parts always require modification and prep work before they can be primed and painted. Fiberglass material will have cracks, scratches and holes which requires body work. It is necessary to align and drill mounting holes. Cutting and adding of material is required for proper fitment. Ships direct from the manufacturer or a distributor. We do not offer any guarantee of fitment on vehicles that have been in involved in accidents and/or have body damage or customization.
Reviews